Boley 75032: Green Farm Tractor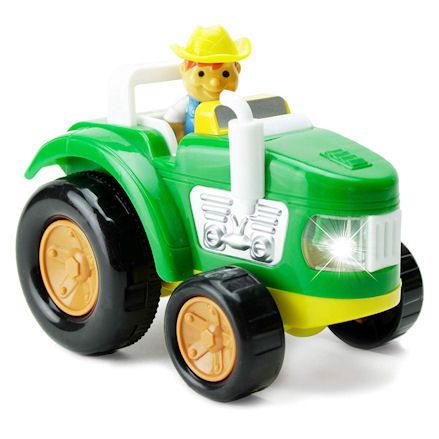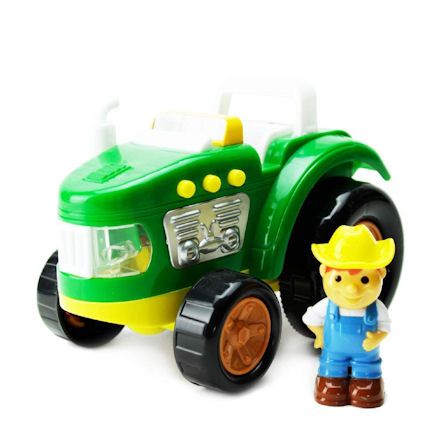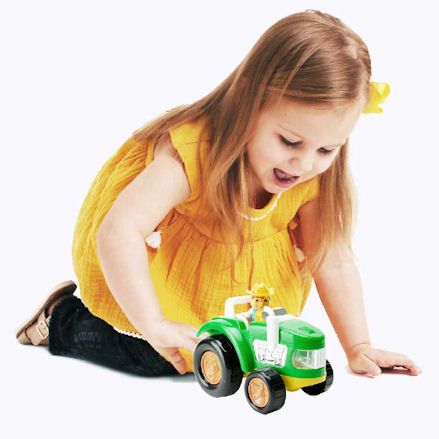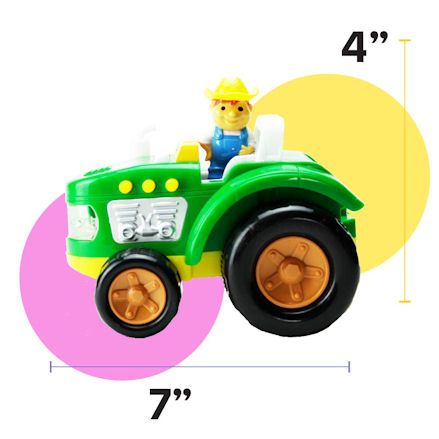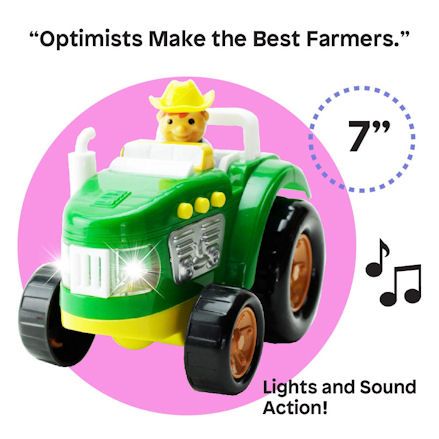 Product description
Open top chunky green tractor allows easy access to the cab where the farming figure can be sat as he drives the tractor around the farm.
The tractor has free-rolling wheels resulting in unrestrictive play; meaning they can push it forwards, backwards and let it go without the movement of the wheels slowing it down.
Battery powered tractor using a flat button battery locked away in a screwed battery compartment, which will make it near impossible for them to access themselves.
With a series of push buttons, the activate the flashing headlights or noisy tractor sounds. And there's an option to remove the battery to cut off the noise if it starts to bother you.
The tractor is made from tough, thick durable plastic, so will withstand a few bumps and knocks, and take what most toddlers can throw at it.
There's also a cheerful farmer who pops into the seat to act as the driver or farmer.
Features
Item No: 75032
Age: 2 years and up
Presented in window box
Made from plastic
Includes: tractor, farmer
Lights and sounds
Battery included
Boley Classics range
Dimensions: L8.5 x W5 x H5.2 inches
Weight: 0.65lb
Manufacturer details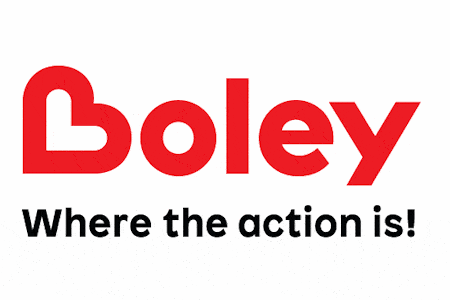 Boley released this green tractor into their Classic series as a standalone model, or if you find it, they have this same model in a farm set with accessories. But for now, this is their only toddler safe tractor in the range since 2018. To make it safe they have made sure the battery compartment is locked away and the design is shaped with rounded off corners/edges.
Guide to Boley (green) farm tractor
Guide to Boley green tractor with free rolling wheels, and as a battery operated tractor its best you understand what this means in relation to toddler use.
Green tractor
Functional toddlers tractor with rounded off edges, smooth edges, free rolling wheels and the biggest feature of all - working flashing lights and tractor sounds - powered from a button battery.
There's no complicated gimmick from this tractor - no friction power, no wind up action. Just push and pull and repel it across the carpet with durability protecting it from most bumps and scrapes.
Boley tractor is bright green with lots of detail, can be used outdoors in nice weather but as its an electronic toy needing batteries, we recommend keeping it indoors where it can't get wet.
Farmer
We have a highly playable Boley tractor but we mustn't forget there's a little farming figure to get there hands on, and he's there to sit on the seat to drive the tractor.
He can also be removed and played with as a standalone figure, and if there's farm animals in the toy box they already own, use him to round up the cattle or look after the smaller animals.
Cheerful character with colorful clothing, wearing a big hat. He's a chunky figure so will be comfortable on the hands.
Lights & Sounds
Delight the little farmer with not only an attractive green farm tractor, but watch there faces light up with real working flashing headlights and tractor sounds that admit from the toy when buttons are pressed.
When buttons are pressed for either lights or sounds, they with play and flash until the time runs out on there own as it cuts off shortly afterwards.
There's no way to turn off the function when the noise is to much, so all you need to so it grab a Philips screwdriver and remove the button battery from the locked away compartment.
Toddler safe
Boley have made sure this tractor is safe for toddlers from 24 months and up, taking into consideration this is an electronic farm tractor and therefore would otherwise pose problems.
So with that in mind, Boley have done away with the usual AA or AAA batteries, replacing it with a small, flat button battery - locked away in a screwed down battery compartment with screwdriver need to access it.
And as its a farm tractor for toddlers, it is designed to be pushed and prodded by little terrors, so it holds its own in durability and has rounded off edges with a smooth surface.
Boley
This item: Boley 75032: Green Farm Tractor
Age: 2 Years
L8.5 x W5 x H5.2 in
Weight: 0.65lb
Boley
Age: 3 Years
L11.5 x W8 x H8 in
Weight: 2.4lb
Big Country Toys
Age: 3 Years
L16.8 x W8.8 x H7.8 in
Weight: 2.6lb
SHOP BY THEME
SHOP BY
INFORMATION