Big Country Toys: Tractor with Implements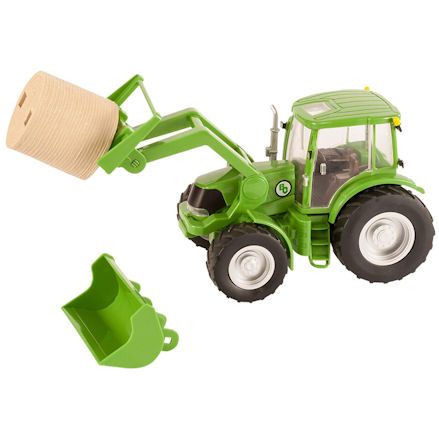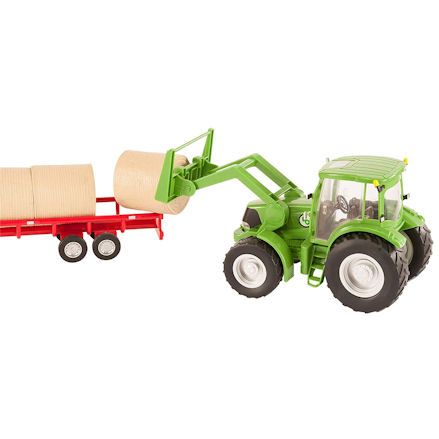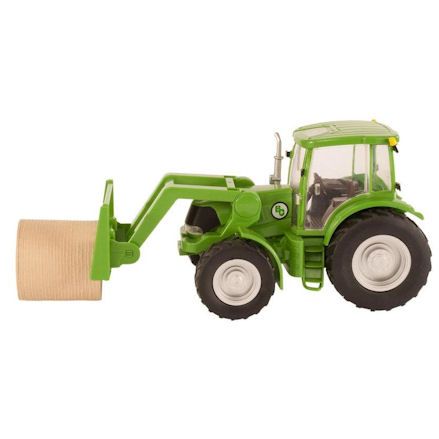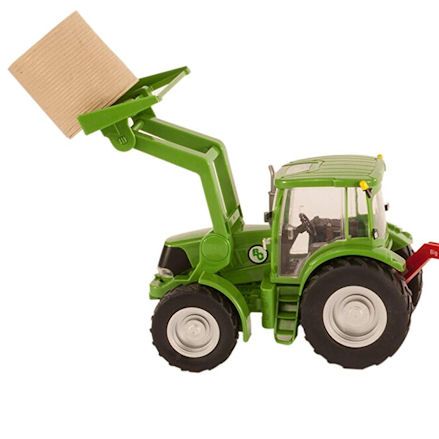 Big Country Toys: Tractor with Implements, 1:20 Scale
Built in 1:20th scale, this Big Country tractor fits in with the whole range, it has free rolling wheels and a functional front loader - with a compatible rear hitch.
Brand:
Big Country Toys
Product description
Only toy tractor in 1:20 scale, and well it only relates to Big Country Toys, it will work with toys that fall close to this scale - including Schleich toys for example, they're close to 1:24 scale.
This Big Country tractor has its fun features mind you, with the all important free rolling wheels so there's no restriction in play - but there's no steering wheels in this tractor.
You've probably notice the front loader, this is backed up with two interchangeable attachments in a bucket and fork - with the fork attachment used with the rounded bale that comes with the set.
This Big Country toys tractor is all you need to expand on your BCT range, well there's trailers and additional accessories waiting in the wings, if an upgrade is required later.
Tough, durable plastic green farm tractor with functional parts, rear hitch, pivoting attachments and big tread rubberized tires.
Features
Scale: 1:20
Age: 3 years and up
Presented in cardboard box
Made from plastic
Includes: tractor, loader, rounded bale
Functional front loader
Interchangeable attachments
Free-rolling wheels
Dimensions: L16.8 x W8.8 x H7.8 inches
Weight: 2.6lb
Manufacturer details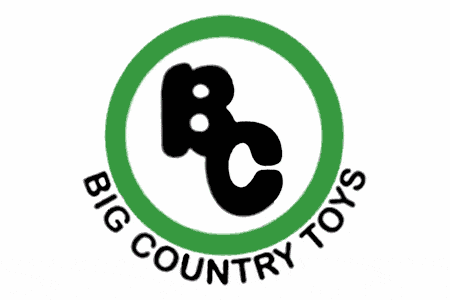 As Big Country Toys series increases in size, it was only a matter of time before we had a multi-functional farm tractor, compatible with the whole range in many ways. In developing this tractor, Big Country made sure its was a true 1:20 scale, they made sure it had the added bonus of a front loader and a rear hitch for towing their farm trailers.
Guide to Big Country toys tractor
Big Country toys only tractor in the series, but its not without its features, with a series of functionality; including a loader and rolling wheels, as we explain below.
Tractor
Medium size, replica 1:20 scale Country Toys tractor, and well its the only model in the series, this one play's an important role on the farm.
Big, chunky rubberized tires combined with free-rolling wheels allows unrestrictive play, with intricate detail on the exterior and interior of the driver's cab.
Well this driver's cabin is not accessible, nor does it allow for a driver to be fitted, the tractor does have a rear hitch compatible with the Country Toys trailers.
Working front loader
Ready to go functional front loader is attached and does not require fixing before play. This is important in two ways; first there's no working out how it fits, second, reduces the odds of damaging it.
If we take a look at similar toy tractors with a working front loader, you'll soon realize this one is less functional, but don't let this discourage you.
Because that's a good thing, there's less to go wrong and its easy to use. It only moves on the main joint, with no movement on the center links - that's until we inspect the attachment where it pivots.
2 Attachments
You have a functional front loader so there must be an attachment to lift up loads and drop them off, and you get all that with the bucket attachment, but bonus, there's a fork attachment too.
That means the front loader allows them to switch between the fork or bucket attachment with a quick clip on, clip off action. Either way, with both attachments fixed, there is pivoting action.
They may associate with the bucket attachment more, so will use this one more often, but the fork attachment is developed especially to pick up round bales - where the bucket attachment cannot.
Single Round Bale
The Big Country Toys series has rounded bales you can add later, but for now they've provided one in this complete Big Country tractor set.
What you'll first notice about this bale is it has holes that go right through, but don't despair, they serve a fun purpose.
In fact, these holes are there so the attachment on the tractor's front loader can poke through it and allow them to carry the bales more securely.
Big Country Toys
This item: Big Country Toys: Tractor with Implements, 1:20 Scale
Age: 3 Years
L16.8 x W8.8 x H7.8 in
Weight: 2.6lb
Schleich
Age: 3 Years
L15.3 x W9.1 x H6.5 in
Weight: 3lb
Boley
Age: 3 Years
L11.5 x W8 x H8 in
Weight: 2.4lb
SHOP BY THEME
SHOP BY
INFORMATION