Battat BT2526Z: Big Red Barn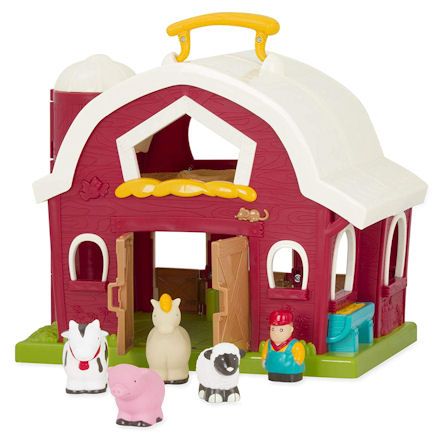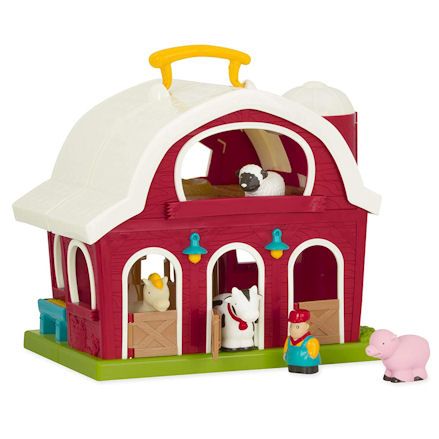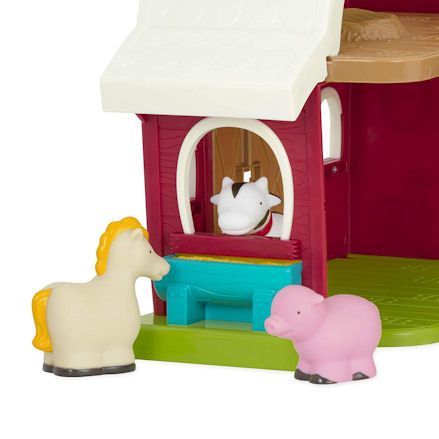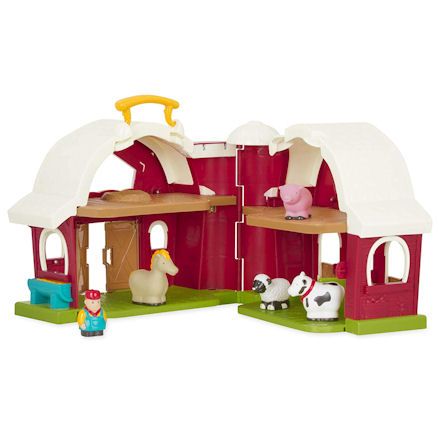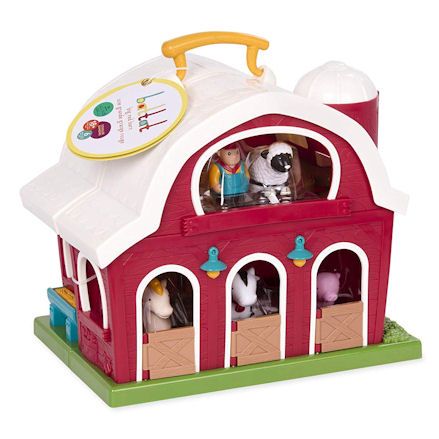 Product description
This Battat big red barn has everything you will need to get the young ones farm set up and running right out of the box, with lots of features and farm animals to keep the fun going.
Well the barn is all shut, the little ones can use the doors to gain access inside, and when in need of more access, then its time to open up the whole thing to make use of Battat big red barn's full potential.
Well the barn set sit's on top of a tough plastic base, the barn can be swung open to gain complete control from the inside. The durability of the plastic will make it highly unlikely for them to cause damage from rough play.
Well its opened up, here you'll find plenty of platforms the toy farmer can keep his farm animals in check, well there's room on the ground floor or use the extra space above.
Even when the barn is opened up, you still have full access to the opening main door and the additional two smaller doors - used for the animals to come and go.
Features
Item No: BT2526Z
Age: 18 months and up
Presented in closed box
Made from plastic
6 piece set: the barn, farmer, horse, cow, sheep, pig
Opening and closing doors
Holes and gaps to put their hands in
Smooth, rounded off toddler safe edges
Figures from 1 inch to 1 and half inches tall
Dimensions: L13.5 x W9 x H12
Weight: 3.7lb
Manufacturer details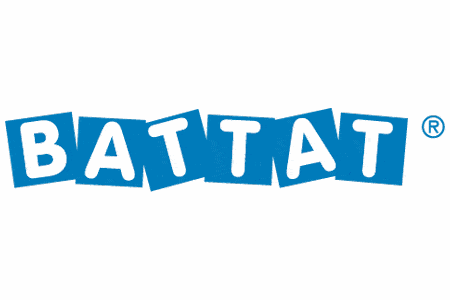 Remarkably, as a family owned company, Battat has been established since 1897. Because of that, you can rest assured they knew what they are doing well making toys. Well this Battat Big Red Barn has been available since only 2018, all those years of experience will guarantee this barn is highly suited to toddlers 18 months and up, and is made to last.
Guide to Battat red barn toy
Classic big red farm set for toddlers, with curved roof, carry handle and opens up for play, this is just a few of the features this barn has to offer, so read ahead as we guide you through all the details.
Open up for play
To get the most of the Battat barn, they will absolutely will want to gain access to the inside, and thanks to they design, this is actually what they can do, and is made for that reason.
Play is extended with the fun features inside the barn, with doors that open and close used for passage for the farm and his animals, or keep them shut to contain the animals indoors.
The solid plastic base acts as the ground floor, where access to the doors are gain with open windows the animals can poke there heads through to get fresh air.
Above the ground floor are two platforms that can be used to keep your animals; but hay, why not keep it has a storage area for accessories they may add to the set.
Close up for outdoor play
Just because it can be opened up doesn't mean you have to use the barn this way, the child is free to use there imagination well choosing to open it up or keeping it shut.
There's no hard or fast rules for either, but when closed, the focus will be taking away from indoors to the outside, where play patterns change from feeding indoors, to grazing on the fields.
Lots of things are needed to do outdoors, well the farmer keeps the animals safe, they can feed on the trough which is located on the side well the Battat barn is closed up.
Its also designed to be played when closed up thanks to its clever design, with Battat focusing on big openings and holes for them to put there hands through.
Portable with handle
As light and handy has it is, this Battat big red barn won't be much use if it can't be moved around the home and outside for play.
Because this is a light toy, carrying it around will be easy, just make sure it closed up and clipped shut correctly before you do.
What is useful with a little supervision, you can allow the toddler to learn to put it away themselves using the useful carry handle positioned on top.
This a tough barn, so carrying it using the fold-out handle won't put any strain on it with potential problems to come later, this is made from tough, durable plastic so the chances of that happening is small.
Farm animals included
Its a rarity these days to get a nice big toy barn complete with farm animals, and because Battat don't really make farm animals to be bought separately, you have all the classic animals you can need here.
That's right, out of the box you are set to go with a horse, cow, sheep and a pig.
These are friendly chunky farm animals for toddlers, made from solid plastic with smooth, rounded edges so they are extra safe for the little ones.
The way the farm animals are made will make it easy for them to stand up straight on there own, without falling over or tipping so easy, thanks to the way their legs are molded.
So well they will stay standing on the farm set base, they should have no trouble standing on the carpet.
Farmer runs the barn
The barn is set up and the farm animals are free to roam, but even the animals need to be looked after and the barn tidied up; with a toy farmer added to the farm he can bring there little farm world to life.
With a farmer figure absent, the farming duties is carried out using there little hands, then add a figure to the scene and watch as their imagination goes wild.
Suddenly, the little toy farmer is moving the farm animals around, guiding them to the water trough and the hay to feed and just generally standing still watching over the farm.
Its seems little now, but these skills will contribute to them knowing what goes into looking after farm animals and the tasks needed to carry them out successfully.
They can also develop a sense of caring with an attachment to each and every animal.
Open doors
The little things in life are just what the toddler needs, and well it does seem odd to focus on the doors, well they can open and close, this is a biggy for them to gain interest in this barn.
Sure there's lots of things to do around the barns and plenty of tasks to complete, but a set that has opening doors for the farmer to pass through or keep the animals locked behind, they will love that.
If you are worried they will break - and they could with huge force - they are highly unlikely to damage these doors as they are fitted to a tough hinge and made from durable plastic.
There's no issues when it comes to opening doors, with any tightness that may develop won't happen, they are designed to be opened with a big door handle to grab.
Battat
This item: Battat BT2526Z: Big Red Barn
Age: 18 Months
L13.5 x W9 x H12 in
Weight: 3.7lb
Green Toys
Age: 24 Months
L8.8 x W5.8 x H9.8 in
Weight: 2.28lb
Schleich
Age: 3 Years
L22.4 x W5.5 x H15 in
Weight: 11.02lb
SHOP BY THEME
SHOP BY
INFORMATION