Barbie FRM18: Tractor and Doll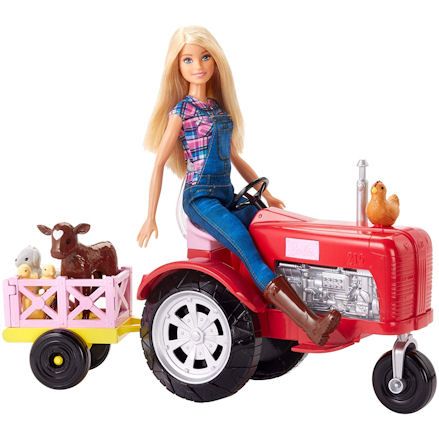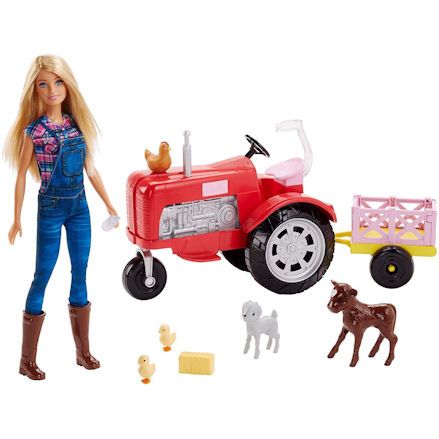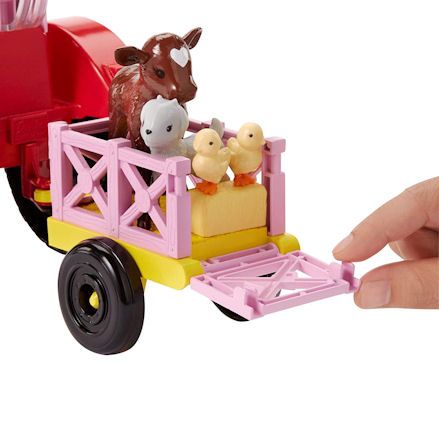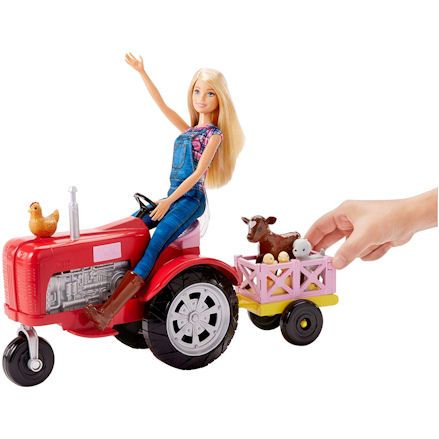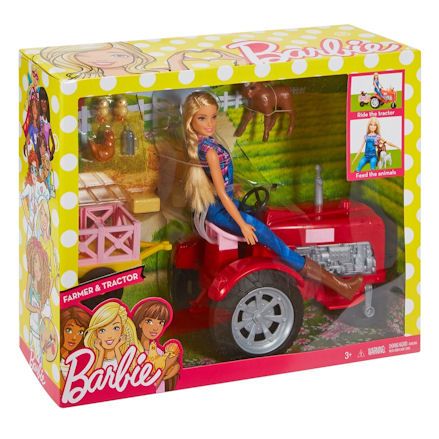 Product description
Now Barbie is ready for farming with her functional big red tractor and mini trailer towed behind using a simple rear hitch and tow bar design - just push them together to connect.
As an open top tractor, farmer Barbie can sit down on the seat and then secured in place using the back support, which acts as a seatbelt for tying the doll down when driving.
Before you would never of heard of Barbie doll and tractor in the same sentence, but all this is now possible with her becoming a fully fledged farmer, well wearing all the gear.
The Barbie tractor rides on free rolling wheels (no steering) with a little detail in the engine and a steering wheel in place.
She can sit on the seat and reach out thanks to her poseable limbs in the arms and waist, has well as her neck movement. And well she can't bend at the knees, she'll still looks the part when she's driving.
Backing up the Barbie doll and tractor set is the all important trailer, towed behind with panels creating a secure surround and a pull-down rear tail gate for loading and offloading.
We finally have 5 farm animals - including a hen, 2 chicks, calf, lamb - with a single bale for feeding.
Features
Item No: FRM18
Age: 3 years and up
Presented in window display box
Made from plastic
Includes: barbie tractor, trailer, 5 animals
Free rolling wheels
Detachable wagon
Farmer Barbie clips onto seat around waist
You Can Be Anything series
Dimensions: L15.5 x W6 x H5 inches
Weight: 2.5lb
Manufacturer details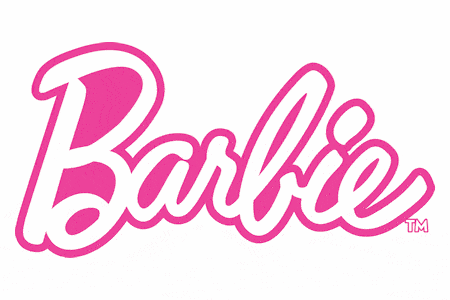 Still a fairly new release, this Barbie tractor and trailer was released in the You Can Be Anything range, so now we have a farmer Barbie ready for hard work on the farm. In developing this set, Mattel (Barbie parent company) made sure its worth your time by including a trailer with a bunch of farm animals and a single bay - as no other farm accessories can be added.
Guide to Barbie tractor
We now have a tractor for Barbie, as we explain what is has to offer and what its top features are. Not only is there a tractor but the trailer and farm animals allow extended play value.
Open top tractor
Big red open top Barbie tractor with free rolling wheels, a rear hitch for towing the trailer and a seat with a secure clip to hold Barbie in place.
There's no restricted features to this tractor, the wheels roll around freely and Barbie can sit on the seat anytime she drives - but don't forget to secure her by using the clip around her waist.
Not highly promoted, but there's a knob on the tractor hood where the chicken can be secured in place well taking a ride on the warm bonnet.
Wagon
It makes sense for the Barbie tractor to come with a trailer/wagon, her play value would otherwise be devalued without the need to tow the farm animals behind - connected using the tractor rear hitch.
As its an open back trailer, this allows them to not only pop in the farm animals and bale, but would provide an opportunity to add extra Barbie gear or unrelated toys.
On a single-axle, the trailer will lean over to rest when not connected to the tractor, but it does so very easily. There are four panels creating a secure boundary, with a fold-down rear tailgate.
Farmer Barbie doll
As part of the 'You Can Be Anything' series, here Barbie is transformed into an hard-working farmer by driving the tractor, looking after the animals and planting crops.
Dressed in faded denim dungarees, she has on a checkered top with high leather look boots - well her long blonde hair looks stunning as usual.
Farmer Barber can sit on the tractor with her legs bent at the waist (not the knees), she also has moving arms and neck for her head to twist and turn.
5 Animals
When Barbie is not driving around in the tractor, her job is to look after these sweet farm animals which includes a hen, chicks, calf and lamb - there's also a little hay/straw bale for feeding times.
Keep the animals as a tight family well they explore the barn and playing in the fields, with the hen looking after her chicks.
Often they will need transporting in the trailer towed behind the tractor, with all animals small enough to fit within the trailer boundaries.
Barbie
This item: Barbie FRM18: Tractor and Doll with Animals
Age: 3 Years
L15.5 x W6 x H5 in
Weight: 2.5lb
Schleich
Age: 3 Years
L15.3 x W9.1 x H6.5 in
Weight: 3lb
Big Country Toys
Age: 3 Years
L16.8 x W8.8 x H7.8 in
Weight: 2.6lb
SHOP BY THEME
SHOP BY
INFORMATION