Equestrian
We feature equestrian toys the young horse lover and enthusiast will love and treasure for years to come. With some of the best and biggest brands available with equestrian toys from Breyer, Schleich, Safari Ltd and Paradise Horse to name a few. Our selection of equestrian toys include children's toy stables for your Breyer and Schleich horses. Well wooden toys stables provide a central area for equestrian play, you will find the range of accessories, toy horse transport, show jumping and toy horses and ponies a a wonderful addition to any toy stable set. Browse below to explore the wonderful world of equestrian toys.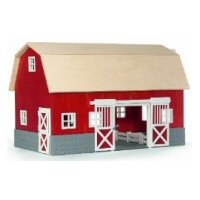 » Toy Stables
Find a home for your favorite horse with a range of plastic and wooden stables available - made to fit all brands. Browse all styles of stables for Breyer or Schleich horses with 2 to 6 stalls, to big barns featuring sliding doors, windows, removable roofs and extras.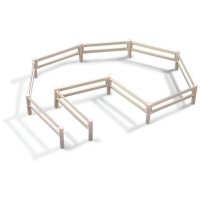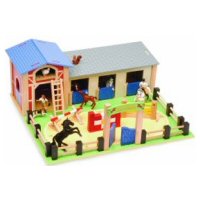 » Show Jumping
Learn how to ride your favorite Breyer or Schleich horse the right way with a choice of wooden show jumping schools and show jumps - sold in sets or as singles - to help build up your riding or cross-country course. Includes acessories for your Papo, Bullyland and Schleich.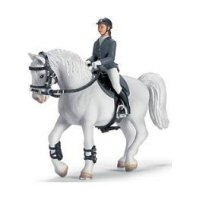 » Horses & Ponies
You'll only find the best brands in model toy horses here including Breyer, Schleich, Papo and Safari Ltd to name a few toy horse brands available. The choice of plastic horses include riders, tack and dressage with tons of breeds to browse through.
» Equestrian Transport
Take your Breyer or Schleich horse to equestrian shows and events in style with an exciting toy horse trailer for transporting horses in luxury. You'll find 4x4s and Jeeps with horse trailers with feature such as free-rolling wheels, opening doors, ramps and fine detail inside as well as outside.