Toy Farm Buildings
We've complied a wonderful selection of children's wooden toy farm buildings. A toy farm building can vary from handmade sheds for tractors and machinery to wooden toy barns, milking parlors, livestock and cattle sheds to farm houses in scale 1:64 to 1:16. Be sure to select your child's toy farm buildings based on the scale of their farm toys. Toy farm sheds and agricultural buildings help develop a child's scale farm into a realistic and exciting farm scene. Kids wooden toy farm buildings are made mostly from wood with features such as sliding and opening doors, to hinged and removable roofing for easy access inside the buildings. Find a choice of farm buildings below to best to his farm toys.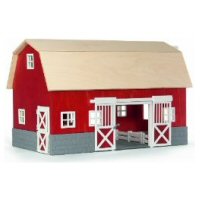 » Toy Barns
Children's traditional wooden toy barns in red are a favorite with children today. If you're looking for a toy farm building that provides plenty of fun and imaginative farm play, a toy barn will do the trick. Kids toy barns come in wood or affordable plastic with features like sliding doors.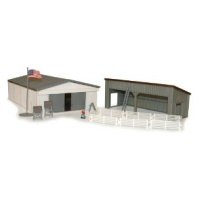 » Toy Machinery Sheds
Toy machine sheds provide a place for the young farmer to store his toy tractors and farm equipment in a safe and secure area. A wooden machinery shed is a simple but large structure, featuring sliding doors and lots of room inside for storing anything from tractors, machinery, to combines.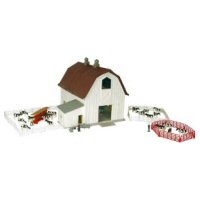 » Toy Cattle Sheds
Provide comfortable living for your toy cows and sheep from a choice of children's livestock sheds. If the budding farmer own's cows then consider a diary barn featuring room for plenty of cows to live and sleep.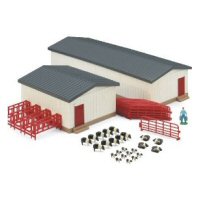 » Toy Pig Housing
Like all animals on the farm, pigs have to be kept away and live in there own separate units so the farmer can feed and monitor his toy pigs with ease. We feature only a small selection of pig buildings, but you won't be disappointed.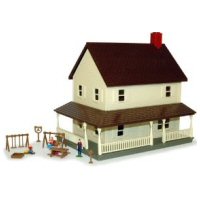 » Toy Farm Houses
Provide the farmer a place to live with a range of plastic toy farm houses. A farm house is traditionally located on the front of the farm, near the main entrance. If you have farm sheds for animals then its only fair to provide a home for the farmer after a long hard day on the farm.