Best toy farm set for toddlers
So we scour the web for the best farm sets, well in our pursuit we've only targeted toddlers farm sets that are suitable for 12 to 36 months.
We've scooped up the best farm set for toddlers only, well the overall design is incredibly child like, focus is on safety so you'll find the corners to be rounded off, with smooth edges which are very chunky. There's no glue or paint, they are all injection-molded using child-safe materials.
Along our journey we gathered a lot of information in regard to farm playset features, functionality, design, structure and more importantly, toy safety.
What we've found is toy farm sets for toddlers are focused on just that, safety. With rounded off corners, no small pieces and chunky farm animals and accessories.
What you will find is farm sets for 3 years and up are quite accurate to real life - well for toddlers they are built with a more pleasant look and feel in mind.
Before we show you our best toy farm sets we found, let's take you through some of the top features expected in each farm set.
What you can expect in each set is the toy barn taking center stage, with additional farm animals, figures, bales and the occasional tractor or vehicle.
Big red barn toys center of play
This is what you'd expect to get when pursuing playset's for toddlers, big red barn toys with a bunch of farm animals to complete the set.
Well these toy barns are small in size, they usually pack a whole bunch of features that will keep the young ones happy for an hour or two at a time.
Made in durable plastic, there are little moving parts with farm sets, but you can expect opening doors, including the whole barn opening up for access inside.
Now this is not a feature in all designs we've personally listed below, as they vary depending on the brand, but this is the top feature of any toddler farm set.
Handle for carrying around
One feature we must mention, that most farm sets usually come with a handle on top of the set for carrying around by the toddler.
The reason we highlight this feature is well it can be handy for parents to move it around and put it away in storage - do you really want a 12 month lunging around a toy like this.
It should absolutely be up to the parent or guardian, but most certainly should always be under supervision which is the only suitable time a toddler should carry a play set.
But of course, as the child gets older (above 3 years) then this shouldn't be a problem, so keep on eye on them for now, well supervision will not be needed when they are older.
Chunky farm animals
There's not much use in a farm play set if the there are no extras to get their teeth into - not literally of course - but its worth keeping an eye on them.
We are talking about farm animals, and all the little accessories that also comes along with each set; fence panels, a farmer and even bales of hay.
You'll be happy to know that brands have taken the toddlers teething stage into consideration when designing toy farm animals, so they are always suitable.
In that we mean that these are chunky farm animals with a smooth surface and are rounded off so there's no hurting themselves on sharp corners.
Either way, the farm animals come with the farm set and can be played with right out of the box, with the option of adding extra animals and accessories later.
Farm Sounds and Noises
We haven't picked a bunch of toddler farm sets with sounds and noises below, but the one or two that are listed require batteries.
So if you don't mind a farm set with electronic components then sure go ahead, if you are not someone who doesn't need a battery operated toy at this stage of life, then leave it.
If you do end up with a battery operated farm set, that's not a problem as these farm sets are made to be played with or without batteries.
The button to operate the noises is usually located on the barn toy building itself, well it will make sounds of the farm animals and tractors noises too.
Our best toy farm set picks
Battat - Big Red Barn, Animal Farm Playset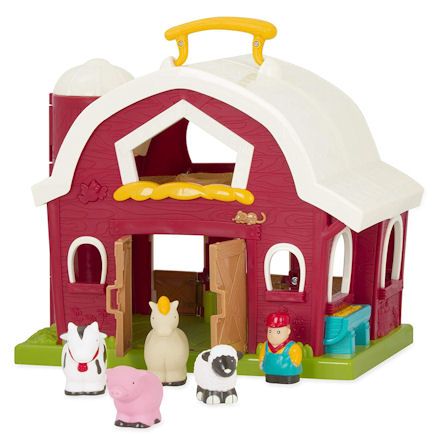 Buy it at: Amazon.com | Age: 12 Months and up
Classic big red barn play set that just about has everything you'll need for the little one to be up and running on the farm right out of the box.
That's why we like this playset the most, as simple as it is, most importanly it features all the fun bits for the toddlers needs.
This includes plenty of farm animals, which are essential for keeping interest in the set going, as well has a farmer figure.
That takes us to the center of play - the big red barn - designed to be played with closed well using the opening doors; well the whole thing can be opened up for access inside.
Here the can play with their farm animals and figures in the barn well using the open pens and the hay loft area above.
Fisher Price - Little People Caring for Animals Farm Set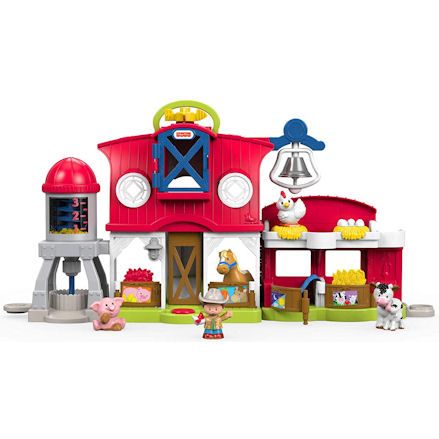 Buy it at: Amazon.com | Age: 12 Months and up
Activity on this Fisher-Price 'Caring for Animals' farm set is completely focused from the front, with plenty of things to do with animals and accessories included.
This one doesn't open up in the traditional sense - well play can happen behind the barn - instead its designed with opening doors and gates with all access from the front.
What you will notice most is the hinged big blue hay loft door above, then there's the main door below, with finally the stall doors used as farm animals or horse pens.
This one is a barn with sounds and noises of the farm, so....
On the right side of the barn there's the silo, and when twisted and turned you'll hear corn popping sounds - but no access can be gain inside the compartment.
This is a discovery based button farm set, so more buttons are located around the set which will reveal more sounds and fun songs suitable for toddlers.
Fisher Price - Little People Animal Friends Farm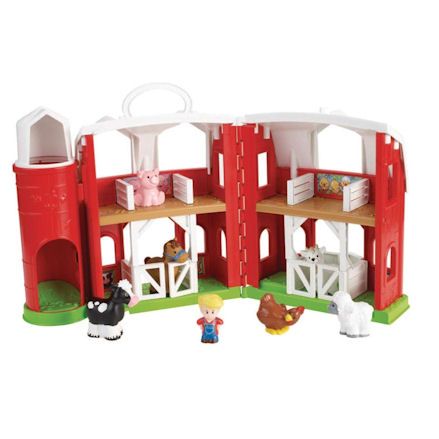 Buy it at: Amazon.com | Age: 12 Months and up
Another Fisher-Price (but not the last) farm set that is jam-packed with lots of features including animal sounds and music.
Open up the whole playset for fun indoors, or play on the outside when the sun is out and let the farm animals roam free - they can all be packed into the barn when in storage too.
Match each farm animal to the corresponding picture on each stall area or let them put the animals where they please - there's no rules on the toddler farm.
Access can be gained from the swinging main door located in the center, with areas for windows including big hayloft access on the floors above.
Opening and closing the doors and gates will activate the animal sounds and music, if you don't want to hear it anytime, simply remove the batteries.
Green Toys - Farm Playset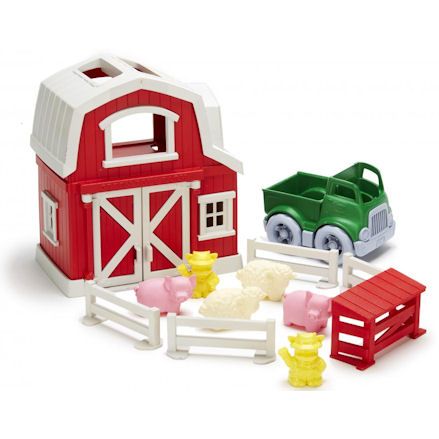 Buy it at: Amazon.com | Age: 24 Months and up
There's no sounds and noises on this one, just a whole lot of fun to be had with the red barn, with access gained from the rear.
Extended play can be had from the delightful farmer and his farm animals laying around or helping out around the farm.
The chunky green truck is a must have, and will guarantee be a favorite item from this play set in regard to play and time spent.
There's a few fence-like panels to create pens and boundaries for the farm animals and a feeding area too.
When its time to go indoors, turn the barn around for complete access inside with a big open space, with an hinged set of doors shutting in the animals for the night.
Playmobil - My Take Along Farm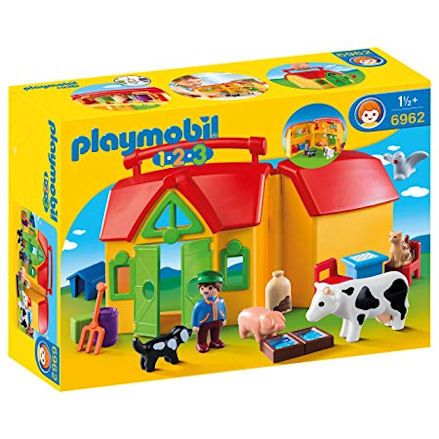 Buy it at: Amazon.com | Age: 1½ Months and up
Delightful farm set for toddlers by a name your know and trust, this Playmobil 'My Take Along Farm' is just that, a play set you can keep in the home or take on your travels.
Its only a tiny set this one, so you'll have no issues with storage in the bedroom or in the car trunk - pop all the animals into the barn, close it up and away your go.
They have two options when playing with this cute little set, well closed up they can play with the animals out on the field or feed them around the barn.
Well its all closed up, access to the barn can still be gained with the big opening green doors.
Turn the barn around and well completely opened up, they have full access to the features the indoors has to offer.
These are areas for the animals to play on the lower and above spaces; well the farmer makes sure everyone behaves, the set includes troughs, pitch fork, barrel and hay bale.
Fisher Price - Little People Mini Farm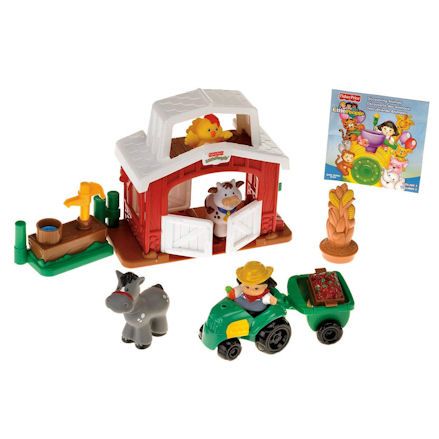 Buy it at: Amazon.com | Age: 12 Months and up
Simple but fun mini farm set, designed to be as minimal as possible but still providing plenty of play with the farm animals.
Its not without its features, there's a big swinging double set of doors and a pump that fills up the well with water (not real water mind you).
If that's not enough, Fisher-Price have included a cute little green tractor with free rolling wheels and yes, the farmer figure can fit in to drive it around the farm.
An additional accessory in the corn which is a nice little bonus, and so is the crate of tomato's you can haul around in the tractor trailer.
Well this toddler farm set is not as big and impressive as similar items, its still a nice set that comes with plenty of accessories to keep the interest going.
Fisher Price - Little People Fun Sounds Farm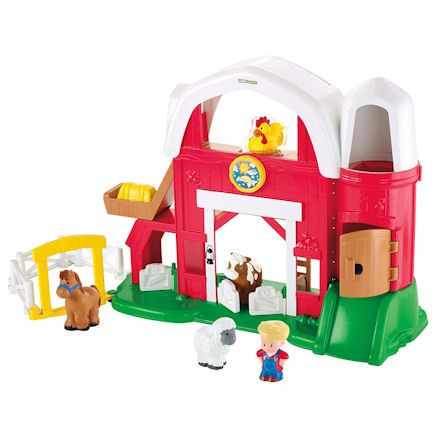 Buy it at: Amazon.com | Age: 12 Months and up
You'll want to get down on the carpet with your toddler for this one, it has there's plenty of fun to be made and lots of laughs to be had for mom, dad and toddler alike.
Well toddler sits down next to the set, the whole thing will tower over them so a little supervision will be needed.
Toddler can choose to play from the front or rear, so parents can play through the opposite to the child.
There's doors that open, farm animals can slide down various sections with panels for creating pens.
There are eight sing-along songs with sound effects from all areas of the farm set, but if this becomes to much the sounds and noises can be turned off - or remove the batteries.
VTech Go! Go! - Smart Animals Grow and Learn Farm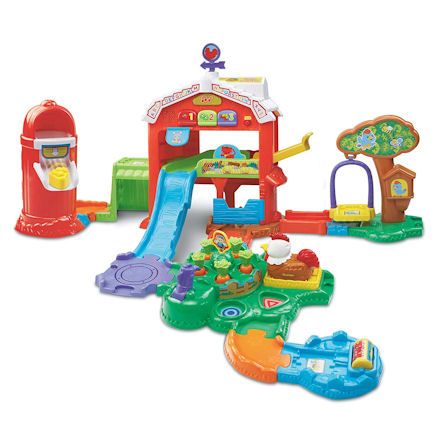 Buy it at: Amazon.com | Age: 12 Months and up
This VTech farm set can only mean one thing, its an electronic farm set for toddlers and that means a battery operated toy.
Be warned, this one doesn't include batteries so you'll need to buy them separately, requiring 2x AA batteries to operate the whole thing well the rooster needs batteries too.
This in turn creates phrases, music and sound effects when the big rooster is popped into the correct positions around the farm.
There's also slides, opening doors and a garden to plant the vegetables and watch them grow.
Additional accessories can be brought for the set if its a winner with the toddler, but out of the box there's plenty of fun activities to keep them happy and entertained.
Conclusion
So there you have it, well you might have a favorite farm set from the list above, all these farm sets for toddlers are intended for children under 36 months only.
We've tried to include a farm set with all, or as many features as possible, but only you as the parent or guardian can make the final decision when safety is taken into consideration.
Remember to get the most value for your money by selecting farm sets with accessories, so you don't have to spend more money later on animals, figures or tractors.
Share this article: