Best Ertl John Deere tractors
Because the Ertl John Deere range is so broad we've been forced to include only best Ertl toys on our top ten, in our opinion that is.
In compiling our own top list we've come to the conclusion only Ertl toys will have made the cut, so forcing us to have a rethink and only include Ertl John Deere toy tractors.
Ertl outdo similar brands in all scale by a country mile.
So as you may have gathered, this page is all about John Deere tractors for sale with a mix of different tractor styles available.
Taking up our list is Ertl John Deere tractors in three major scale sizes, starting from 1/64th, to a medium 1/32nd, and a large 1/16th.
When you buy toy John Deere tractors in either of these scale sizes you can be assured each one has compatible accessories like trailers, implements and animals to assist you in creating a small farm to scale.
1. Ertl 45433 - John Deere 7215R Tractor with Grain Drill, 1/64th Scale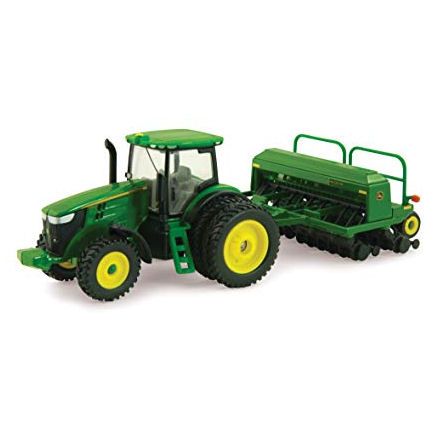 Where to find it: Buy it from Amazon, or online stores like Green Fun Store. Age: 3 Years | Price: $12.50 - $14.00
This John Deere tractor represents everything you'll need to set up a small 1/64th farm set, with the option to expand the range in the future.
Built in this popular scale means it fits in with dozens more farm toys, not just from Ertl but similar brands too.
Complete with a grain drill that is towed using a compatible rear hitch, you have the option to hook this tractor up to Ertl trailers and implements.
If you decide to expand your child's farm, this tractor will make a good start.
2. Ertl 35850 - John Deere 21" Big Scoop Tractor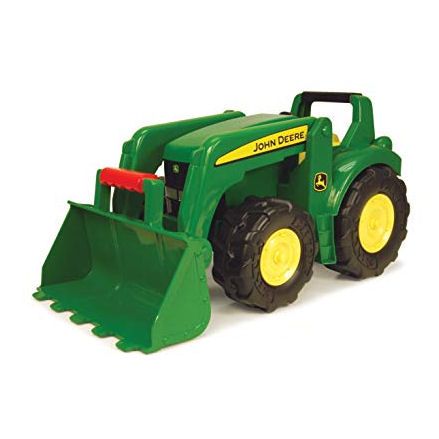 Where to find it: Buy it online from Amazon or reliable Green Fun Store. Age: 3 Years | Price: $32.99 - $35.99
Move large amounts of sand and stone at a time with this big scoop tractor.
Its most notable for it's big front loader with a handle to load, lift and tip the bucket and rear push handle to assist the kid in pushing and pulling the big tractor.
Made in hard but durable plastic, it has four big rubberized, free rolling wheels and does not require batteries - making it suitable for getting wet and muddy outside.
Well it can be used anywhere in the garden for scooping mud, stones and soil, why not pick up sand, as it makes an ideal sandbox toy tractor, but can also be used in the home.
3. Ertl 35024 - John Deere 11" Tough Tractor, 1/16th Scale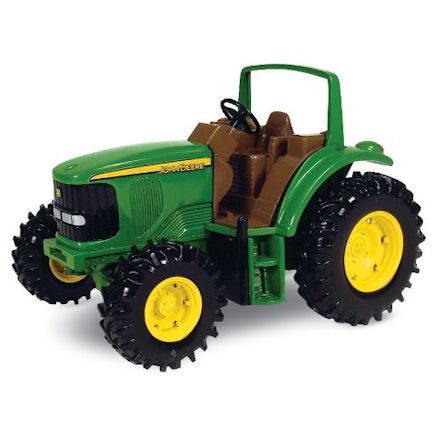 Where to find it: Buy it from Amazon, or search it on eBay. Age: 5 Years | Price: $19.50 - $21.00
A highly deserving third place for a quality built, sandbox tractor in a big 1/16th scale.
Its produced in die-cast with tough durable plastic parts and a suspension to soften the weight, made with rubberized tires and metal fixings to keep it together.
Take your Ertl John Deere - open cabin - tractor out in the garden playing on the lawn, mud or in the sandbox.
Match this big green tractor up with trailers and implements in the range.
4. Ertl 35747 - John Deere Carry Case Value Set, 1/64th Scale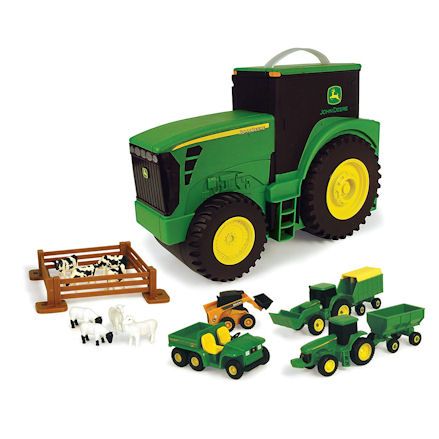 Where to find it: Buy it online from Amazon. Age: 3 Years | Price: $24.00 - $27.00
Away from a list of traditional John Deere toy tractors brings us to this tractor shaped case, complete with a bunch of John Deere related 1/64 scale farm vehicles, animals and accessories.
There's just enough farm toys here to get your farm up and running in know time.
Once the child is done playing it can all be packed away in this carry case and placed in the dresser or on the side of the bed.
This is all you need to get a farm set up and running right out of the box, with really no additional farm toys required.
5. Ertl 15813 - John Deere 8" 7220 Tractor with Bale Mover, 1/32nd Scale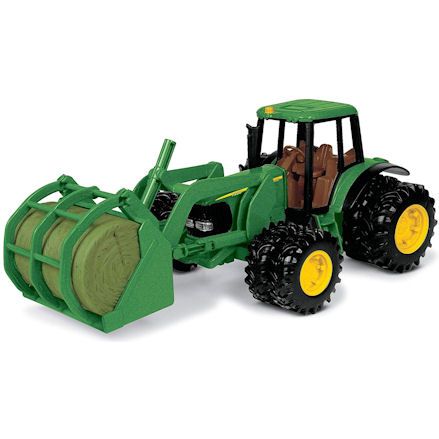 Where to find it: Buy it online from Amazon or niche site Green Farm Toys. Age: 5 Years | Price: $18.00 - $21.00
Midway through our top ten and that brings us to this Ertl John Deere tractor with matching bale mover.
Collect your bales from the fields and store them in the barn using this tractor. It features a working front loader with bale grabber attachments and comes with the hay bale featured.
Made in 1/32nd scale, it's equipped with free-rolling, dual wheels which can be removed by a lock and twist method.
You can match this tractor up with any trailer in the same scale thanks to a rear hitch.
6. Ertl 45439 - John Deere 6210R Tractor Baling Set, 1/64th Scale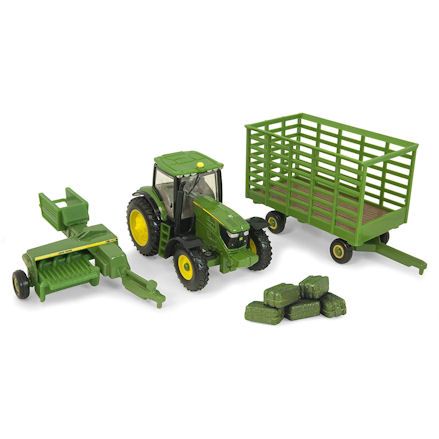 Where to find it: Buy from Amazon. Age: 3 Years | Price: $21.00 - $23.49
This set has absolutely everything included to get the small farm up and running with processing and transporting hay bales.
Made in the hugely popular 1/64 scale, this John Deere toy tractor and bale trailer comes complete with 5 green bales of hay ready for transporting.
If you're not familiar with this range, you'll be pleased to know the tractor fits with other trailers in the range and so does the iequipment. You just a new a truck and a few farm animals and the the set is complete.
7. Ertl 46292 - Big Farm John Deere 4020 Tractor with Dual Wheels, 1/16th Scale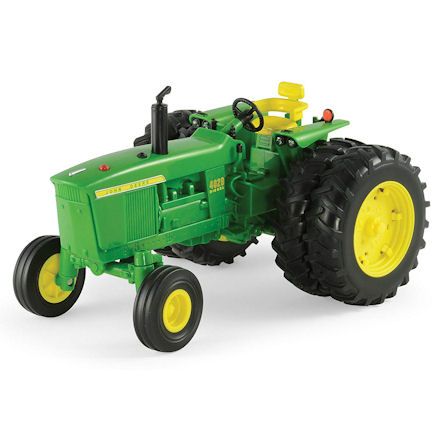 Where to find it: Buy from Amazon. Age: 3 Years | Price: $30.00 to $34.00
With it's highly recognizable style, this Big Farm John Deere tractor is sure to impress the young farmer with its open cabin with easy access to the steering wheel and seat.
Its equipped with removable, dual rear wheels and a rear hitch compatible with farm machinery and trailers in the range.
It's fitted with external decor including mud guards, exhaust, lights, detailed engine parts and a seating area.
As its made in 1:16 scale, you are free to use this Big Farm trailer with all trailers and equipment in the range.
8. Ertl 15357 - John Deere 5420 Tractor with Front Loader, 1/16th Scale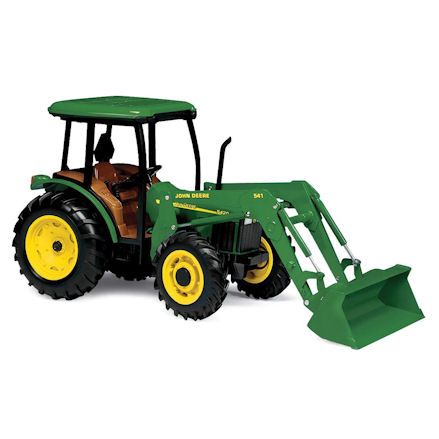 Where to find it: Quite a few places to buy this item including 3000toys, Green Fun Store and Amazon. Age: 3 Years | Price: $50.00 - $53.00
Sold under the 'Big Farm' label, this is a large 1/16th scale tractor by Ertl.
In real life this John Deere is quite small compared to it's counter-parts but is still ideal for use on a child's small farm, with its smaller size insuring easy access to any matching barns.
It has a windowless cabin with detailed interior. The front two wheels can be steered and the font loader goes up and down, well the bucket tips.
9. Ertl 46260 - Monster Treads Tractor with Wagon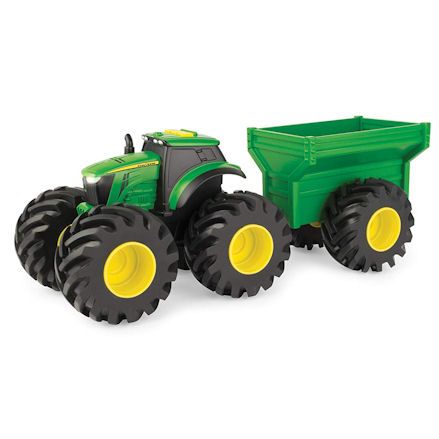 Where to find it: At time of searching most places are out of stock, but Amazon is your first place, followed by the useful 3000toys.com. Age: 3 Years | Price: $20.99 - $23.99
Quite a remarkable tractor that is deserving of a higher place on our list but it does find itself down the bottom, but does beat dozens more to reach our top ten.
This is an open top, chunky tractor with matching John Deere wagon, adding more play value than a 'stand alone' tractor.
It comes with a front loader that lifts up and down with help of a leaver, a rear hitch for the trailer and has a good suspension - or bounce - for driving over bumps.
10. Ertl 15489: John Deere 6410 Tractor with Barge Wagon & Disk, 1/32nd Scale
Where to find it: Specialist Action farm toys and Amazon. Age: 5 Years | Price: $30.00 - $34.00
Bottom of the pile comes this John Deere with a barge wagon and large disk for plowing the fields.
And even though this tractor does come last, remember there are far more Ertl John Deere tractors available so it should be considered a good choice regardless.
However it is set in a less conventional 1/32 scale and has a larger starting age range of 5 years - so this is where it may lose its standing.
Share this article: