Welcome to our homepage
Welcome to Toy Farmers USA
Toy Farmers USA was established to assist parents and those looking for gift ideas for young farmers and farm toy enthusiasts. Browse our site for highly popular scale farm toys from leading brands. We feature kids farm toys from Learning Curve, Ertl, Bruder and Schleich to name a few. In addition to leading brands, we feature scale farm toys from manufacturers such as John Deere, Farmall, Case IH, Claas, Ford, Fendt, Steiger and New Holland farm toys.
Scale farm toys include barns, tractors, farm animals and anything else found on the farm, all in smaller scale. The size of the featured items include scale 1:16 farm toys, 1:32 and the ever popular 1:64. Children's wooden farm play sets provide hours of farm play, featuring wooden toy barns and cattle sheds made from natural wood and child safe paints. Apart from farm toys, we feature a wealth of information and facts about scale farm toys and recommended buys.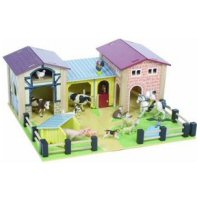 » Farm Play Sets
Children's wooden farm play sets make a delightful gift for any budding farmer. They provide a place to keep all his farm animals and tractors with a range of traditional farm buildings like barns, farm sheds and farm houses. Kids farm play sets are usually made from wood and hand painted to the finest detail, Alternatively, you may be interested browsing plastic farm play sets.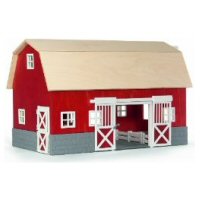 » Farm Buildings
Build up a farm scene with a selection of single toy farm buildings. Collecting farm buildings separately allows the budding farmer to use his imagination and make his on farm layout with no limitation. You can be wooden toy farm buildings ranging from toy barns, machinery sheds, cattle sheds, pig sty's and farm houses. Farm buildings are made from wood or durable plastic.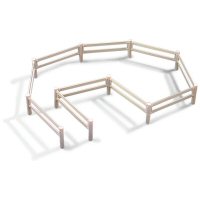 » Farm Accessories
Farm accessories are a useful piece of kit when it comes to doing jobs around the farm. Browse our selection of hay bales whether you're looking for traditional yellow round or square bales or green ones. We also feature children's toy farm fencing, perfect for creating animal pens. Finally, we have a featured plastic toy silos that make a great addition to any child's farm.